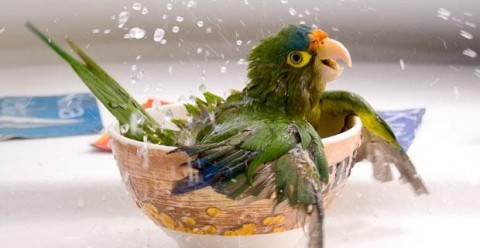 Q: Do Australian birds, such as budgies and cockatiels, bathe less than South American birds, such as quakers?
A: The answer to your question depends partly on the native environment of the birds and partly on the weather.
Budgies and cockatiels are native to the Australian desert, so they are adapted to a harsh environment in which there isn't much water. In our homes, they do well when they bathe occasionally.
Not all Australian birds are from the desert. Some are from the rain forest — such as lories and Eclectus parrots — and appreciate frequent showers. Rain forest birds are accustomed to daily showers.
Quaker parakeets are native to grasslands and woodlands in Argentina and probably appreciate getting to bathe more frequently than desert birds, although they are not rain forest dwellers. 
Don't forget to consider the weather outside your window. Even my desert-adapted cockatiels appreciate cool showers on hot days, sometimes taking them twice a day. When the temperature is moderate, my cockatiels do fine with a shower once a week.
---