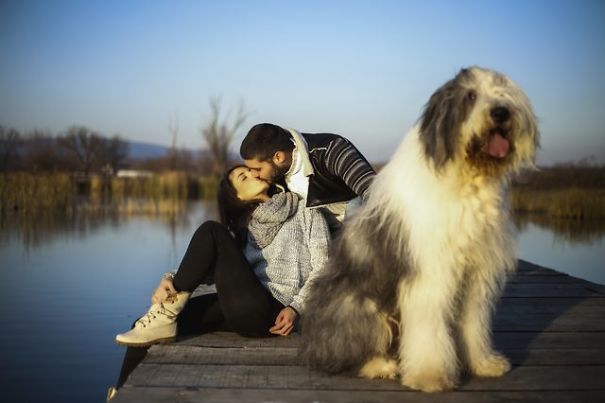 When you begin a romantic relationship, it is likely that, in trying to get used to the new situation, maybe some of the problems arise there between your partner and your pet. When there is a new partner in the family, it can happen that some of the relatives show jealousy and the same thing can happen to your dog.
You might have noticed but don't be surprised if your four-legged friend is jealous of your companion. I will teach you how to cope with the problem.
Admit it: Your dog is jealous of your new partner
People that are accustomed to live with animals know very well how they can become jealous, especially when the family appears a new member – whether it is a new animal, your best mate, his pet, or anyone.
In this regard, the scholars, who thanks to their capacity of investigation, they always manage to go beyond the simple fact. They have recently discovered that jealousy also belongs to the animal world; although some think it's a human feeling only.
Through some of the trials, some specialists of the University of San Diego, California, have managed to record the suffering experienced by dogs when they believe that someone (or something) can steal the affection of their master.
How to prevent your dog try jealousy towards your partner
In the start, you put yourself in the shoes of your dog, which was the absolute protagonist of your attention and now suddenly he is forced to share the space with an intruder or invader. For this reason, it is best to avoid the things you over-complicate and look for the best way to live in harmony puppy and partner.
Then ask the help of your new love. Together you will surely be able to achieve the goal of a happy life together. Also to center it there are several methods at your disposal.
Signs that your dog is jealous
In what way your puppy will show his jealousy? Pay attention to the following changes in his behavior:
• You show irritable to the appearance of your partner.
The barking in a very specific manner, tries to prevent access to some areas of the home and in extreme cases it even attack.
• Becomes possessive towards you. Stuck to you in every moment of the day to avoid your partner approach.
• Reacts by destroying various objects of the house in an attempt to attract your attention.
• He becomes depressed and loses interest in daily activities.
Tips to ensure that your dog is not jealous
The most important thing is that both you and your partner may make understand to the animal that will not lose your affection. Then:
• Give the same attention as ever, if not even more. Do not let them feel that you have been put aside because of your new relationship status.
• Make sure that your four-legged friend will associate your partner with gestures affectionate towards him/her: caresses, rewards, games or walks.
• Do not castigate; never for him/her reactions. Will not make the situation worse.
• Be the first to correct his/her wrong attitudes with patience, affection and lots of positive reinforcement.
If despite these remedies, the jealousy of your animal continues or even worsens, maybe it's time to take it to an expert in animal behavior before the situation becomes irreparable.
The happiness of being in three
No one likes to feel replaced. So be if your dog is jealous towards yours new partner, analyzed all the actions to put in practice. Maybe you will realize your attitude with him/her arouse the feeling of jealousy.
Keep in mind that the affection and dedication are fundamental to avoid the risk that your romantic relationship is spoil by the episodes of your dog's jealousy. With patience and perseverance, you get it all.
You will see that after passing some time your puppy will feel very happy to have gained a new member in the family. Someone else; who loves him, pet him and look after him as much as you.
---